Latest News
Why Women Should Stay Away From Janemena's New Advice to Save Their Relationship
Popular social media personality, Janemena, has shared a controversial post on her Instagram page after she advised women not to leave a guy that gives them 200 naira. She also went on to advise women to date two guys at the same time. Janemena is known for sharing controversial posts online, she sometimes shares relationship advice with men and women, but this time around, her latest relationship advice should not be followed by women if they are to enjoy their relationship. While some people may find her advice useful, the message she is trying to pass along is not something that should be followed by women.
Janemena said on her Instagram page: "Don't leave a guy that gives you 200 naira for a guy that gives you 10k. Date both of them because you will need 200 naira to withdraw 10,000 naira". This advice may seem appealing to young ladies who are not yet married, but it is not something that should be adhered to because it encourages ladies to date two men at the same time. Telling ladies to date two men at the same time because of money is not good advice at all, because a lady could end up losing both men if they discover that she is cheating on them.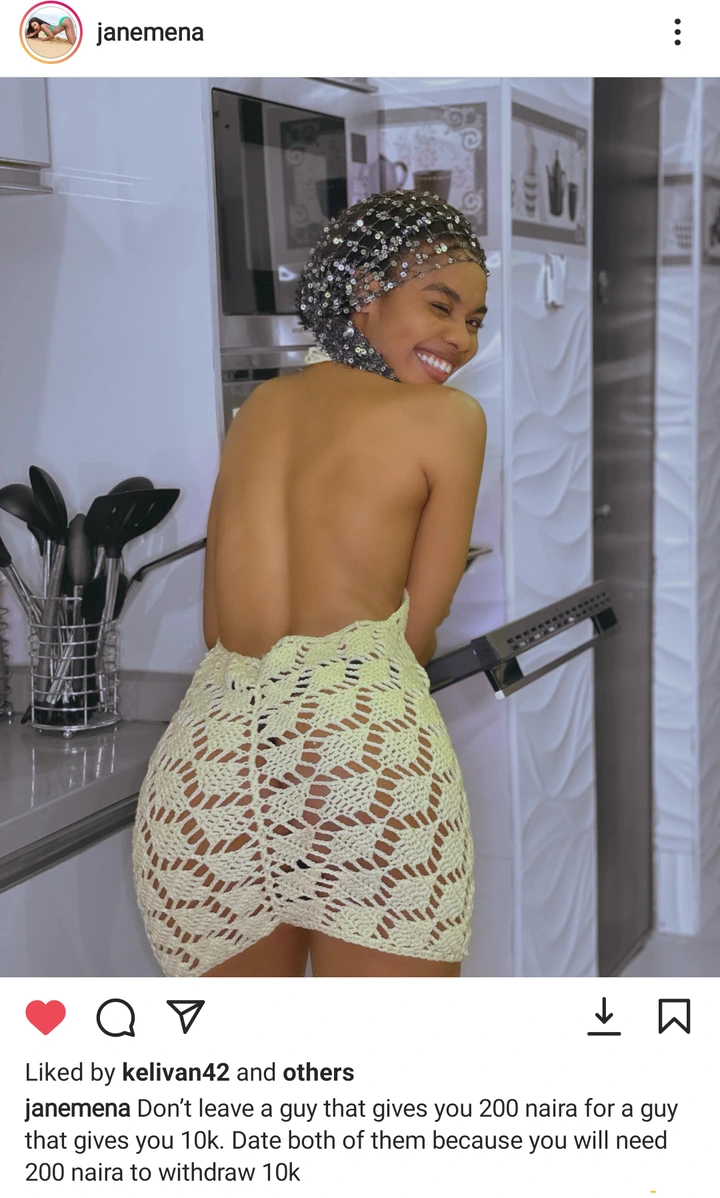 Another reason why her advice is not to be followed by women is that she is trying to encourage women not to be satisfied with one man. She is trying to send a message that women cannot get everything they want in one man, and her advice for women encourages them to have multiple boyfriends even when they are in a serious relationship.
This is not the first time she will be sharing advice related to this, but this one deserves a mention because if women decide to follow this advice, it could end up destroying their relationship with the man that loves them dearly.