Entertainment
Never again will you bring up my age in an argument – Pere warns Nini
BBNaija housemate, Pere, has warned Nini to stop bringing up his age during an argument. The reality star made this known while arguing with other housemates this morning.
Pere told Nini that his age had no relationship with what they were discussing. He said they are not age mates, adding that she should learn how to accord him some respect.
It might interest you to know that Pere and other housemates were arguing that Nigerians use more iPhones than Americans. Pere objected and revealed that an average Nigerian hustling in the street can not afford the device, but most Americans can due to their credit system.
He also revealed that all his friends in the United States make use of the iPhone. Nini immediately asked him how many phones he bought with his hard-earned money at his current age.
Nini also revealed that she is 26-year-old and has used 6 phones in her life. Pere warned her that his age had nothing to do with how many phones he had used.
Fans who watched the argument reacted and aired their respective opinions. Those who commented stated that they love how Pere cleaned Nini immediately. See more reactions below.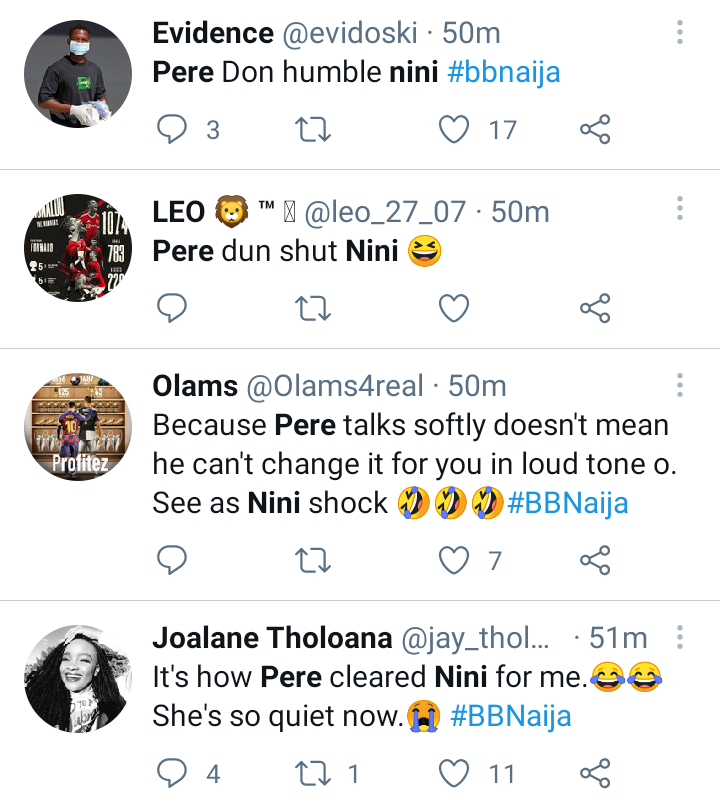 It might interest you to know that this is not the first time Nini and Pere have had a faceoff. Recall that a few days ago, they quarrelled during a task, and people reacted to it.
Do you find Notjustloaded useful? Click here to give us five stars rating!
---
No one has commented yet. Be the first!