Entertainment
BBNAIJA S6: Saskay reacts after Cross blew hot over her unseen moments with Jaypaul [VIDEO]
Big Brother Naija Shine Ya Eye Housemate, Saskay, is caught up in a love triangle between two male housemates.
Saskay is having trouble choosing between Cross and Jaypaul because they both have feelings for her. Cross has deep affections for Saskay and has been behaving envious whenever he sees her with Jaypaul.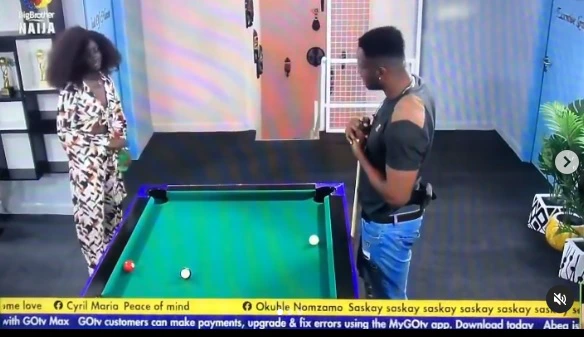 Cross and Saskay were playing snooker yesterday evening, and he decided to take advantage of the chance to confront Saskay after noticing Jaypaul getting too near to him. Cross had been assured by Saskay that she and Jaypaul are not dating, thus he was not pleased to see Jaypaul on Saskay's bed.
Cross told Saskay that he was perplexed when she went from the blue room to his room and then found Jaypaul on her bed, and that she should explain what happened. Saskay didn't give Cross the answer he wanted; instead, she told him she'd think about it and get back to him later.
Cross wasn't satisfied with her response, so he asked if she needed some time to think of anything she could tell him later. He went on to say that if he ever left the house and discovered she wasn't who he believed she was, he would never speak to her again.
Saskay inquired whether it was a threat, to which Cross said that it wasn't, but he'll be so sorry that he won't speak to her.
Saskay kept her head down during the conversation, oblivious to Cross' scathing accusations.
However, whether Saskay was crying or not is unknown. What we do know is that Cross' comment has caused her a great deal of pain.